Multiple
3rd Party Integrations
256%
Increase in mobile conversion rate
The brief
BetterYou specialise in nutrition – transdermal magnesium and vitamin D supplements, to be exact. They wanted an eCommerce site to house their specialist products, with space for news and blogs, allowing the site (and in turn, business) to grow as the industry-leading brand for key nutritional supplements.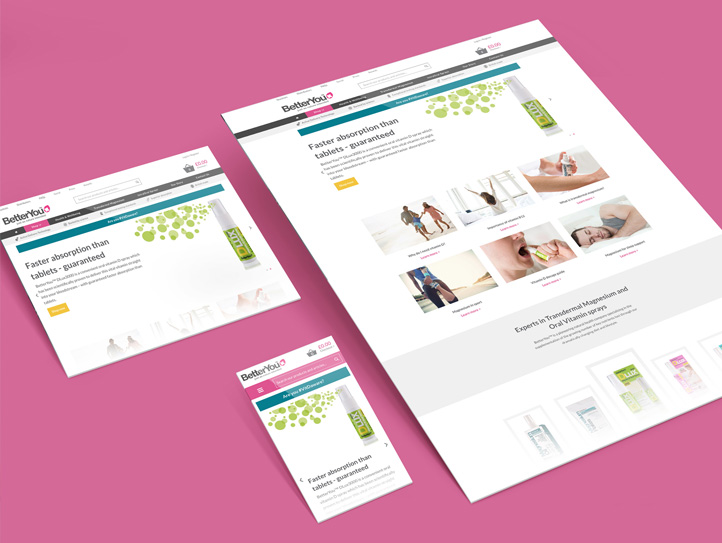 Web design
Reflecting a healthy lifestyle, we designed a clean and minimal eCommerce site that focused on the customer, which was inspired by cutting edge fashion sites. This style emphasises the balanced wellbeing that BetterYou recommends.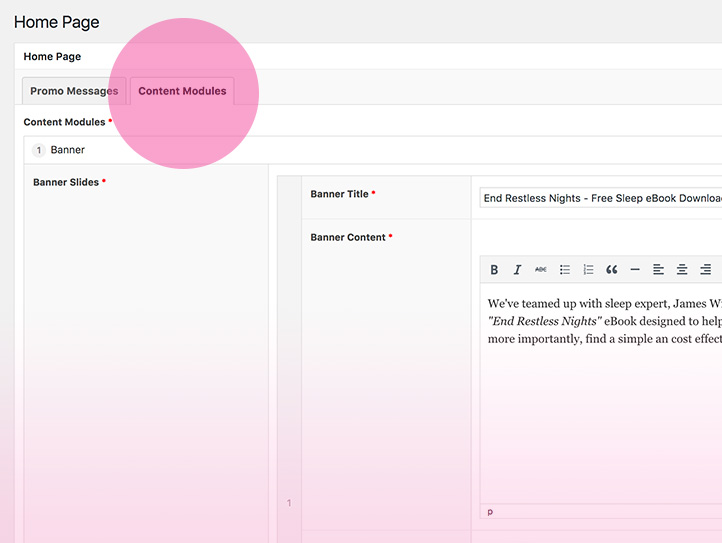 Empowering the client
We created a component-based design; a system of elements, rather than 'flat' pages. This means that within the CMS, the client can freely rearrange existing pages, as well as creating new ones using the provided components!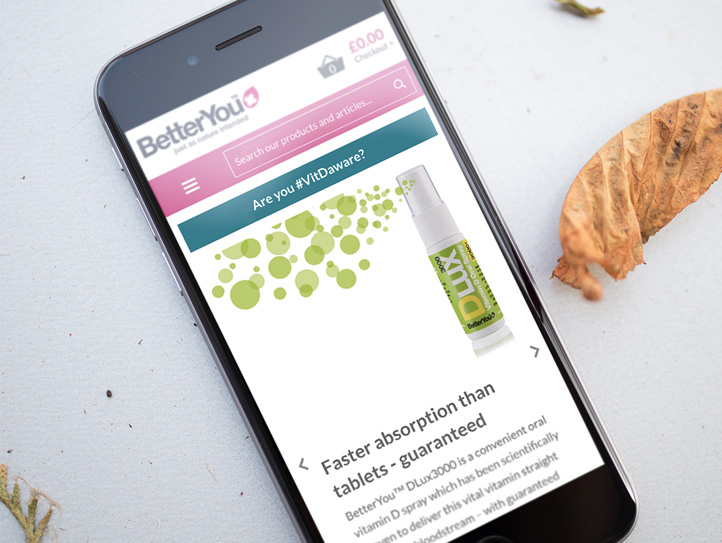 Flexible content marketing
BetterYou want to be seen as an authoritative source of information, and we created them a Health and Wellbeing section which encompasses a mixture of blog posts, social media, newsletter signup, a FAQ section, and case studies.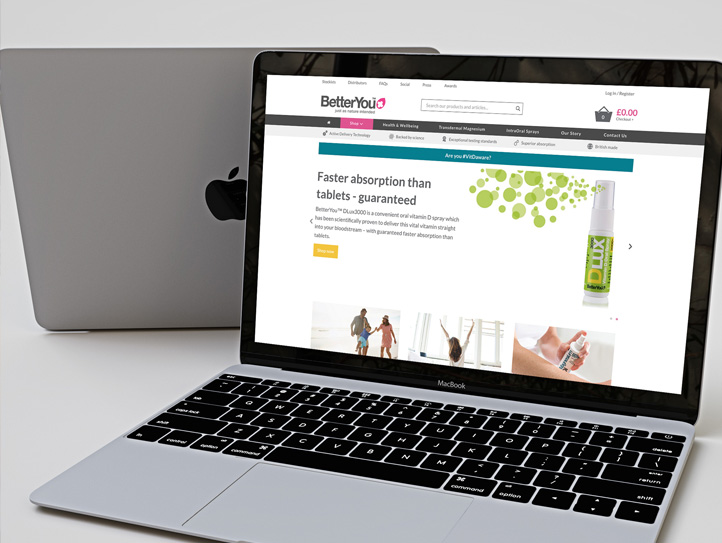 WordPress and Magento
WordPress is renowned for its easy-to-use CMS (unlike Magento), and BetterYou are always updating their rich content. Their products are managed with Magento, but we gave them the best of both worlds by seamlessly integrating WordPress too – ensuring a user-friendly admin system that the client absolutely loves.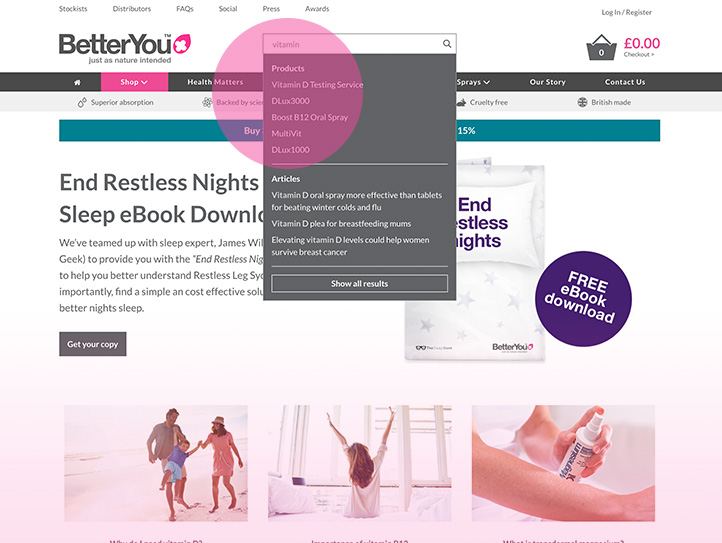 Superpowered Search
Algolia is a third party search API that allows you to completely customise your data and create your own indexes for customers to search. We combined the Magento and WordPress plugins to populate a custom index which contained both products from Magento and content articles from WordPress.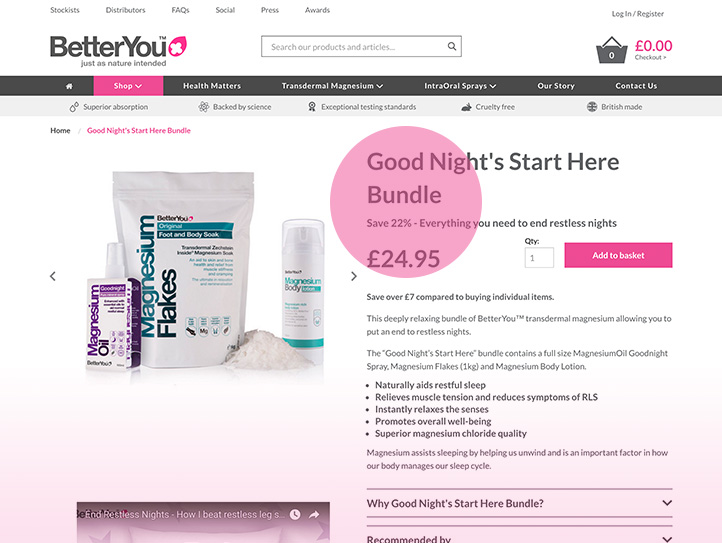 Sage (finance) integration
BetterYou needed a custom feed to provide their Sage system all sales order info. We ensured it showed prices inc and ex VAT, delivery info, and complex bundle products that have multiple items. We used a reliable Magento community module to export sales info in real time, and customised it so that Sage can import the orders.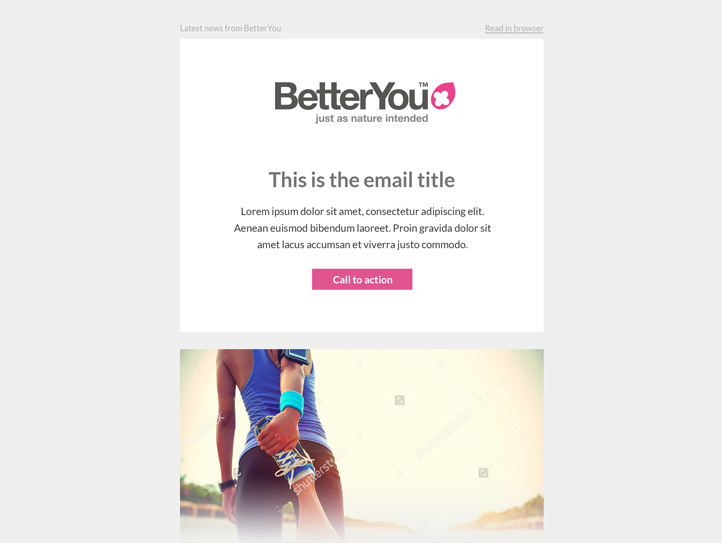 Email integration
BetterYou's "healthy" mailing list was imported to MailChimp to send regular emails with promotions / product scientific research. We integrated the new platform using MailChimp forms which auto-update their email segments. We also used a third party plugin for Mailgun to better ensure email delivery to the customer's inbox.