We look into why a responsive site is imperative in 2015.
Are you viewing this on a standard desktop? An iPad? iPhone? Android? Kindle?
Websites created just for desktops (and when I say desktops, I mean for one standard screen size) are the thing of the past. What is often forgotten is that, much like a design trend, advancements in technology can change, leaving everything behind overnight.
Take Apple. They started off with the iPhone 1 in 2007 – super cool and sleek when it came into production – but if you picked one up today it would seem bulky with a tiny screen. Not a good mix. That's why Apple keep bringing out new versions – to meet the demands of their customers. If only Olay did anti-aging cream for websites… Voila! No wrinkles or fading memories.
You can't run away from important technology and design updates
Unfortunately, like aging ourselves, it's impossible for your website to avoid these changes without doing something about them. A site should last 3-5 years on average, there are certain advancements in technology that a website simply has to keep up with.
According to Google, 26% of leading retail site homepages are not mobile friendly.
A website that displays your homepage effectively is a must-have for any current website who wants more visits, a lower bounce rate and ultimately, to make more sales.
Mobile internet browsing (including app usage) overtook desktop browsing in 2014, which may be a surprising statistic, but when you think about your own usage across platforms, it starts to make more sense. If your site is easy to use and navigate across all devices then it's a given that it'll improve conversions, so there's a real business case for investing in a responsive site.
Google has the final word on responsive websites
As of April 2015, Google stated that making your website mobile friendly will have a positive impact on its search engine ranking, with the crackdown being aptly named 'mobilegeddon,' (honestly, look here).
Desktops, tablets, mobiles – across the board, websites need to be easy to read, simple to navigate, and have the design perfectly corresponding with the screen size. A good way of seeing if a website is responsive (if you're on a desktop) is to adjust the size of the browser. A responsive site will change as it adjusts. Not Just a Label's menu is a good example: on desktop you have a standard navigation, and as it shrinks to a tablet or mobile size screen, this nav changes into a burger menu drop down list, and the search bar fits to the size of the screen too.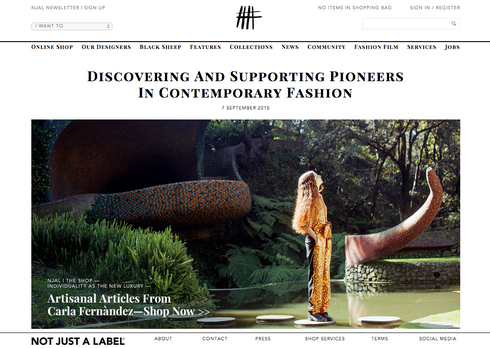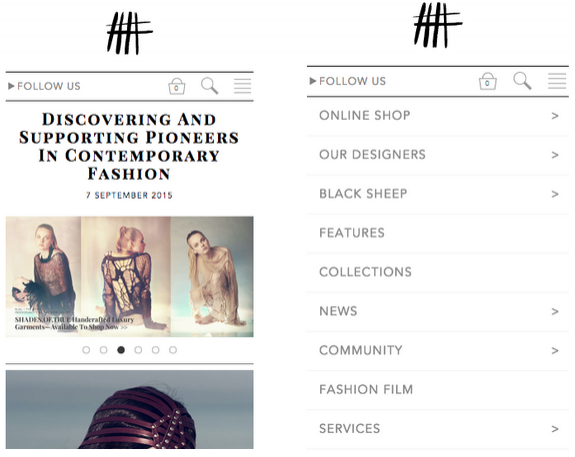 But optimising your site for mobile means more than just the visuals – it's the text, the length of titles, the meta tags and descriptions… everything can affect how effective the site is in mobile or tablet format.
While it's baffling that leading retailers don't have mobile optimised sites, it means that upgrading your own site to being made responsive will essentially make you one step ahead (or at least on par with successful websites).
Top optimisation tips
Keep the text simple. Like this point.
Don't make tiny annoying buttons or tick boxes or anything else that people using a touchscreen phone could find 100% irritating. Make big bold buttons, and big bold decisions. Big bold everything.
A clean and clear navigation is super important.
Never EVER squeeze all your desktop information into a mobile site. You are not writing the sequel to Ulysses, and no one wants to read that much on a small screen. White space is good, fellow people of the mobile internet!
We here create any new site to be responsive as standard. Creating a website that isn't responsive in 2015 is foolhardy, and we only want to build websites that clients can get the most out of. Otherwise what's the point? Who wants to go home without feeling some sense of accomplishment? We all need some way to feed our egos. Making fab websites is ours.