Online shopping gives the customer a multitude of things to consider: will the delivery damage the item? Will they look as good as they did on the model? Will the delivery be on time? Is the returns policy easy to understand?
The benefits need to outweigh the risks, so what can you do to make the user feel more trusting, and more willing to convert? As online isn't a face-to-face customer service system, it's important to find other ways to ensure your customers browse – and buy – happily.
One of the main ways an eCommerce business can reassure customer is a clear and simple returns policy. If a returns policy is hidden, or not easily found, users will assume that there is something to hide. If the returns policy is clear, and you see it whilst shopping, or at the checkout, users are far likelier to convert.

Before I buy anything online, I check the returns policy. If it's not good, it's not worth it. Especially when the delivery charge is less than ideal. Some retailers even have a disappointing returns charge, where they suggest you purchase an even more expensive "recorded delivery" stamp. It's a no from me, Ted Baker.

A study by TrueShip shows that 65% returns are not the customer's fault, and yet some big retailers are still demanding up to £5 paid postage for returns. Will that customer shop with this retailer again? My thoughts are that they probably wouldn't, and I don't blame them.
How important is a flawless returns policy?
This 2011 E-Tailing Group study shows that over 70% of consumers surveyed say free shipping and returns were most important when choosing to purchase.
In 2014, ComScore found the question of returns policies to be regarded even higher at 80% in the decision to purchase. As people shop online more, they expect to be treated as valued customers, and valued customers deserve a flawless returns system.
But is it so hard to believe that the returns policy is so crucial to ensure conversion? Think about it this way: if you asked how to take an item back in store and the staff dithered about, unsure what to tell you, and evading the question, you'd be suspicious and might leave empty-handed. It's exactly the same online, if not more important, as online shoppers must know exactly what to do when returning an item.
Does the customer need to return a prepaid parcel to the Post Office? Is there a returns depot? Can they take the items back to a store? All of these questions (and more) should be clearly answered on the site either at the checkout, or preferably, before. If you've got a great returns policy, it's well worth shouting about it!
No one forgets a good shopping experience in a hurry. If a user is treated well they are likely to shop again – and voila – you have a loyal customer.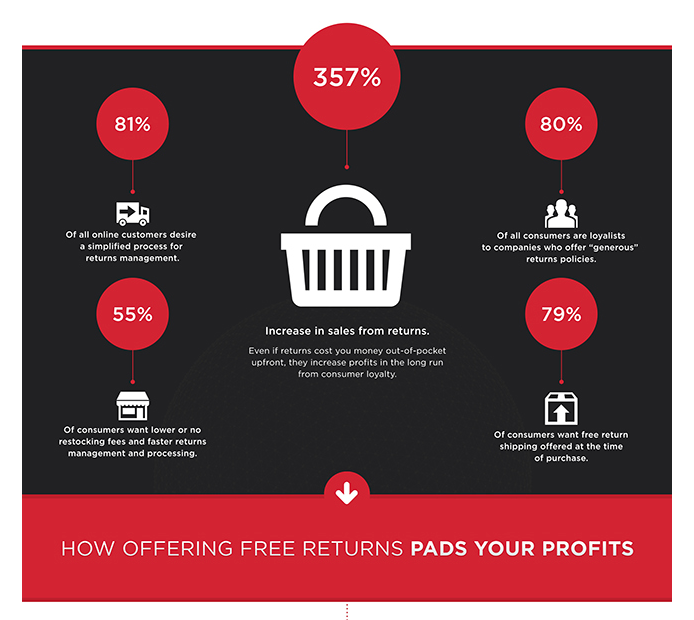 Hey big spender…
Surprisingly, studies show that the more loyal the customer, the more items they are likely to return. Retailers value loyalty above all else, and this particular study shows that these shopper's conversion rates are the healthiest.
Monki
Monki is an expressive clothing store, screaming girl power and individuality. It's returns policy is excellent, but expressed poorly on the website: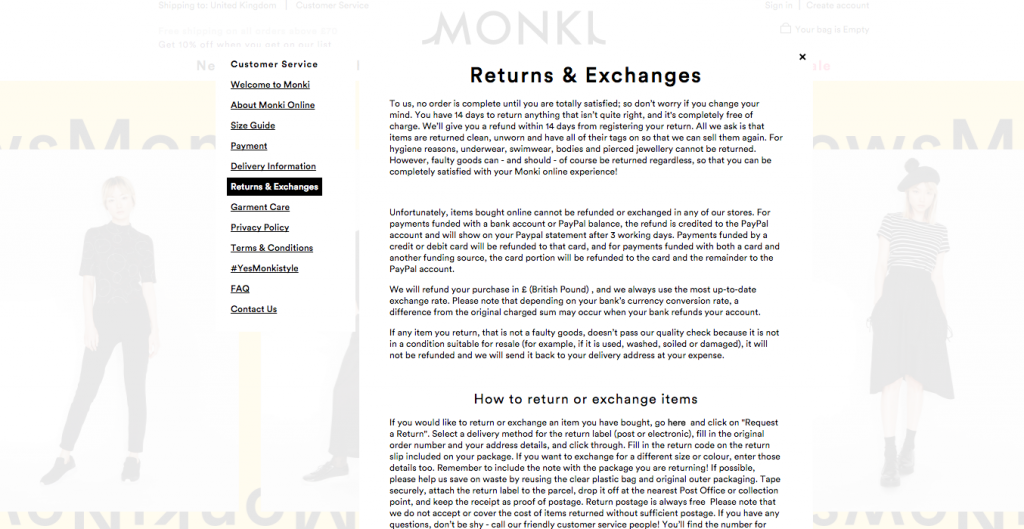 Big blocks of text are a big no-no online. Everyone knows this, but we still see them frequently. This makes it frustrating to read, and isn't clear about how to take back unwanted online purchases, or how much it costs (if at all).
Luckily, once you've deciphered the returns novel, it turns out it is free and easy to achieve. Why didn't they just say that in the first place? If you have a great policy, it's so important that you flaunt how utterly amazing it is.
One UK retailer to really shout about regarding their clear, structured and effortless delivery and returns policy is… (drum roll)
ASOS
You know a brand has an unfathomable amount of customers when the staff at the post office know the Head Office's post code by heart (remember, returns aren't necessarily a bad thing for the brand in the long run).
The first thing one of the ASOS Directors says when explaining how he adhered to his customer's "high expectations" is "free, quick and reliable delivery options, and hassle-free returns." In fact, it's a fairly integral part of the business, and stated multiple times in the 2015 Annual Report.

P.S did you know that mobile traffic accounts for over 58% of all ASOS UK online users? Head over to our blog about responsive websites to learn more about why being mobile-optimised is crucial to your conversions!