With email marketing there's two (well, maybe three) things that you want to see improving or remaining high.
Open rate
This is how many people are clicking on your emails and is the first level of your email strategy. Open rates benefit from improving your subject line – and avoiding the dreaded spam filter.
Subject lines should inspire curiosity, while not being too vague and easy to ignore. Certain words have been shown to have positive effects on open rates: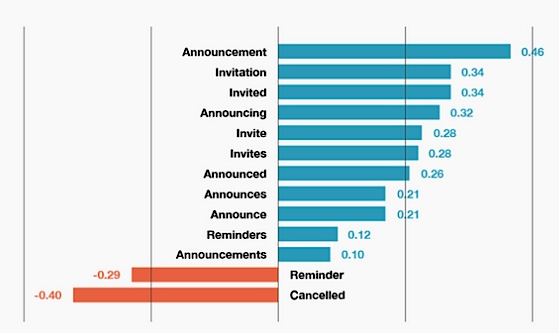 Click throughs
This is the amount of people who are opening the email, who then respond to the call the action within the email by clicking. There's a bunch of factors which affect and improve the click through rate of email:
1. Is the content relevant? If your content is unlikely to interest your recipient, it's not likely your email will succeed.
2. Is it time critical? Flash sales and events requiring action on behalf of the recipient are good email topics.
3. The title and copy should say enough to spark some curiosity, but ambiguous enough to encourage you to click through to find out more.
4. The information in the email should always be what the subject suggests, people don't want to be misled.
5. The email should have one coherent point that ends in a click. Whether this is a new product being launched or an offer that's being announced, the email should end with a call to action to click.
Sales/conversions
This is ultimately the goal of the email – to get someone who isn't engaging with you to stop what they are doing, follow your email path, then make a purchase/book an appointment/send an enquiry – whatever your goal is.
This too can be a process of trial and error. There are some basics that are likely to have a positive impact, such as making sure that the email links to the correct page and that the page that the email is linked to is properly optimised. This can be anything from the images, design or website copy.
What American Apparel did well
The clothing retailer send emails frequently (1-2 times day) and to a wide subscriber base. This base has been built by acquiring emails on the checkout process of an order, and even extends real life stores who offer discounts in exchange for email addresses.
The retailer has clearly recognised the value of email, which remains a powerful tool for stimulating sales – arguably more so than social media.
All of American Apparel's emails follow a pretty formulaic structure:
A large, bold image.
Vibrant colours.
Minimal text in a large font.
One focussed message.
One of the standout companies who consistently do email well is ethical clothing manufacturer and retailer American Apparel.
Each email is simple and has one clear message and call to action. Emails often get bogged down with asking too much from a recipient, instead of what they should be doing – guiding the viewer to one salient piece of information.
Urgency
American Apparel use urgency well in this late night email: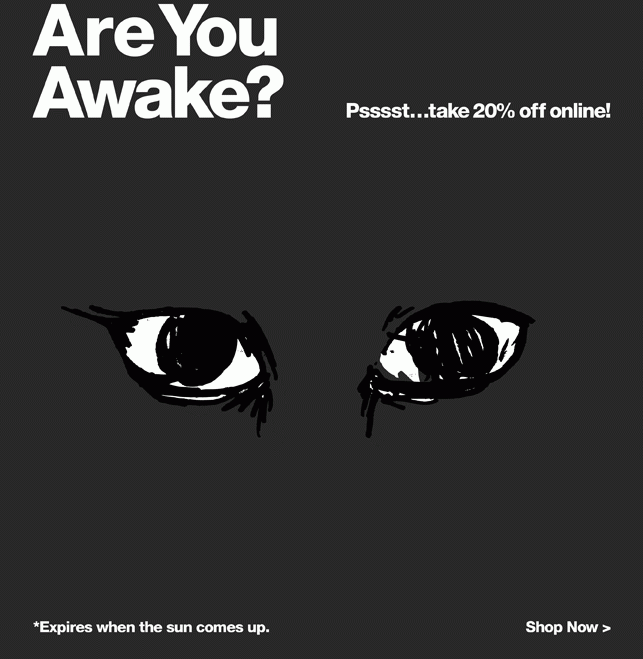 This email arrived at 11.30 on a Sunday night, geared to catch night owls, or, more cynically, people who have perhaps been at the pub all afternoon who are now on their laptops (with a credit card) before bed.
Tone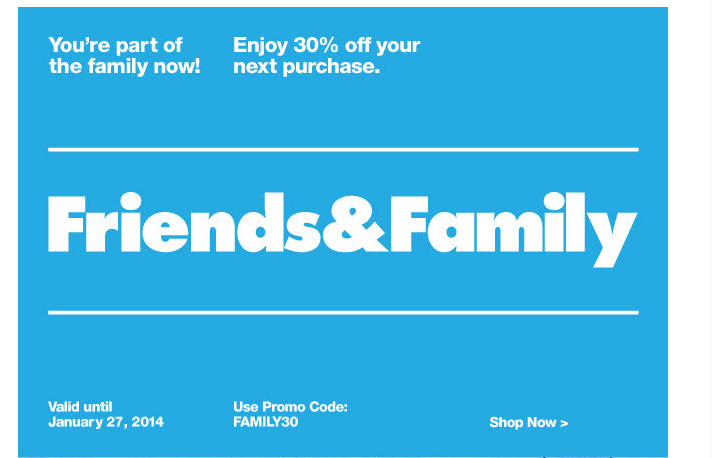 Another email for a promotional code, this campaign bears all the trademarks of the American Apparel design – bright, friendly colours and imagery that works well around one central idea.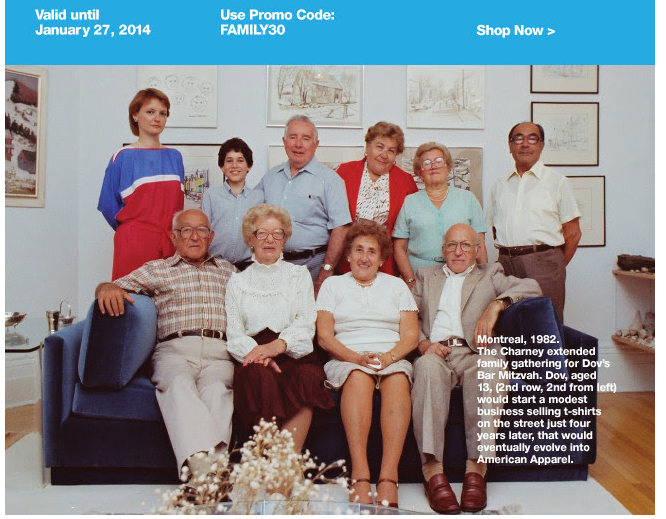 This email is effective because it appeals to the viewer on a personal (and humorous) level, as well as letting them know about a current promotion. Two birds with one stone and all that.
What we can learn
American Apparel's email marketing strengths are the brevity and succinct nature of each email.
People check their emails on smartphones, tablets and a host of mobile devices, so you often have seconds to engage them.
This means that without have a clear and direct message – that ultimately leads to a conversion or interaction – your emails may be too vague or simply have too much text in them.
Try to:
Keep emails brief and to the point.
Keep them minimal and text down to a few short lines.
Be creative – come up with a central creative idea or concept for each email.
Email frequently and at peak/opportune times (this is usually tested using trial and error).
Have ONE clear call to action.