Our eyes are always drawn to one particular newspaper in the stand. Whether that's for a great (or truly dire) headline, an interesting front page image, or just the style of the page in general. Online, it's slightly harder to get a whole page in front of a reader. Even worse, there's so many people marketing online that most people feel like they're drowning in emails promoting various brands, sales, or stories.
Email marketing best practise
You need to grab the reader's attention within the first 3-8 seconds, according to most email marketing stats. This doesn't give you much time to capture their interest, though studies show attention spans are on the rise (a big thank you to responsive web design here, we think, as users can actually enjoy scrolling through content on their phone). It might seem obvious what makes a great email, but if you take a look through your own inbox, how many sub-par marketing emails have you received?
We're looking into what constitutes a successful email campaign. That's the content in the email, and how to measure its success.
Strong visuals
We all know that a fantastic photo or graphic will capture your audience's attention. Be bold with colour and typography (don't forget, bold doesn't have to mean bright. A black and white colour palette can be just as powerful if you use it in the right way).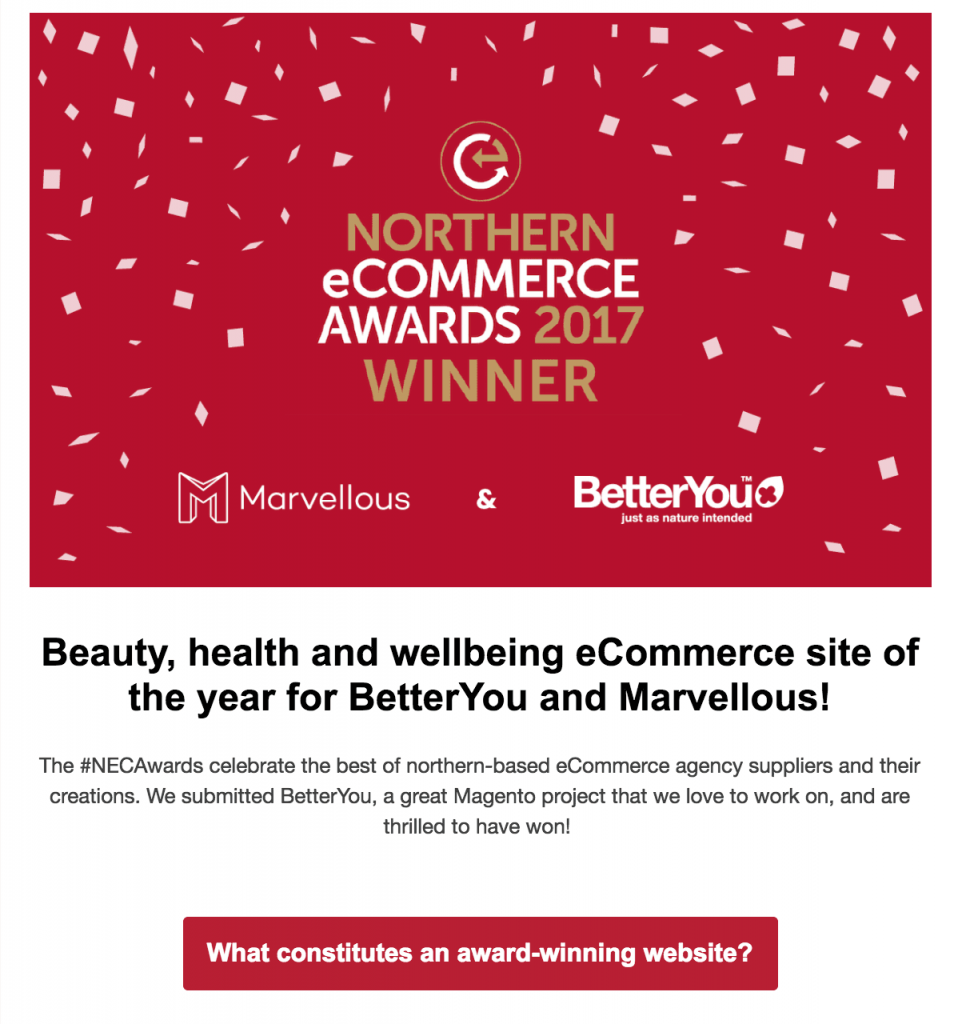 A clear call to action (CTA)
Make it obvious what your email is about. Do you want them to click through to a web page? Ensure it's easy for the reader to do, otherwise they won't bother! A clearly labelled button that draws the eye is the perfect clickable link to whizz the reader from their inbox to your site.
With that said, your work isn't done there. The page you're linking to must retain the user's attention and compel them to either buy, or contact you. Ideally, the landing page should be specific to that particular email campaign. For example, you're promoting a specific product and its features? Take them to the product page. It may sound obvious but we want information, and fast. Make it as easy for the customer to click on the email and convert. If you can get the email subscriber from their inbox to your checkout in 3 clicks, you'll know your website is designed with the user in mind.
Compelling, inspiring, or concise and factual information
BetterYou have healthy content marketing (see what I did there) – their banners are colourful yet to the point, they have clear copy that doesn't waffle, and a clear CTA which takes you straight to the product page. These, paired with the three icons that give plenty of information for the subscriber, make for a great looking and successful email campaign!
 
How do you measure the success of an email campaign?
We use MailChimp for email campaigns, and many of our clients do too. MailChimp have an easy to understand reporting tool that you can use to see campaign results in real time.
MailChimp offers insight into industry averages when it comes to email campaigns, too. For instance, Creative Agencies (like us) have average stats of a 22.4% open rate, and a 2.6% click through rate. Companies who provide services or products to do with people's hobbies, whose industry average is a 28.46% open rate and a click through rate of 5.13% (reason #65362 why it's important to look for stats that have relevance to your business size and industry!).
MailChimp campaigns are pretty straightforward to set up and send to your mailing list, but designing a good looking one can be tricky. We often design and build a custom template for our clients, which can be used over and over with different content. Easy! Give us a bell if you'd like the same.