Twitter is introducing will soon introduce a 'buy' button – but what difference will it make?
What's new?
Social networks have a shaky past with introducing eCommerce – Facebook have had a trail of failures with their disappointing eCommerce efforts – with micro-payments, removing its virtual 'credits' currency then removing 'gifts' and several major brands have closed their Facebook stores too after disappointing levels of engagement.
Could this newest effort from Twitter fare better?
Twitter is currently testing a "buy" button, with implementation not far off. Consumers will be able to purchase directly from promoted tweets, meaning brands will have a fresh angle when appealing to the 271 million Twitter users.
It's not just a new buy button that's being added to Twitter, video advertisements that work in a similar way to AdWords will let marketers pay each time someone clicks to view them,  Twitter has partnered with payment platform Stripe Inc (a company we use with our Yetti platform), so users can make a purchase with just a few clicks.
Change in social strategy
This new eCommerce element to Twitter may make some people rethink their current social strategy, or at the very least think up some fresh ideas on how to best utilise the buy button.
A new focus on time limited offers is likely to be more common, as something like a 24hr flash sale on a particular product could work well – as users make spontaneous purchases on the move.
Two things that are guaranteed however:
The use of promoted posts will see a marked rise in popularity.
Sales from social will be a lot easier to monitor.
Nathan Hubbard, head of commerce at Twitter has said the introduction of the buy button is intended to "bridge between a consumer wanting something and getting it,' adding that 'Conversations are happening every second on Twitter with artists and charities and consumers, and many of those conversations are leading to transactions already."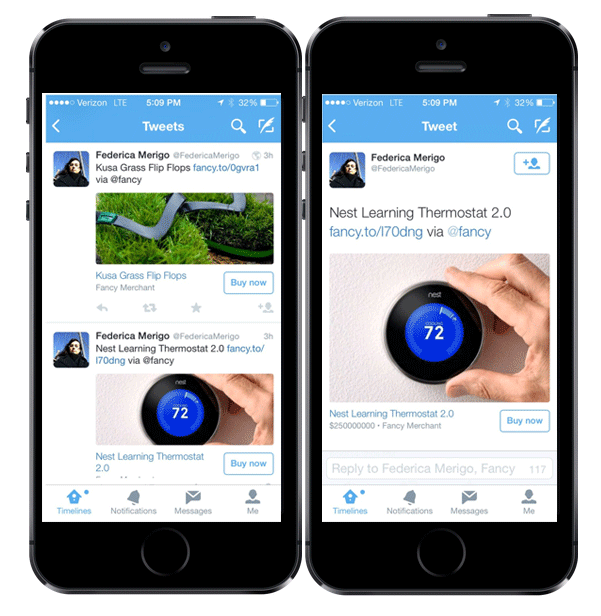 Facebook to counter?
Facebook is also testing a buy button on its ads in a fresh attempt to monetize the popular social media platform further. The popularity of this service is yet to be soon, but we think it's unlikely to have game changing capabilities, and may end up in the boneyard of failed ecommerce strategies.
Conclusions

What won't change:
People won't use this service for larger purchases, insurance, expensive items, holidays, etc.
Existing social strategy is unlikely to change too much, the platform is likely to remain the go to CRM tool, rather than becoming a purchasing platform.
What will change:
Limited time offers and spontaneous purchases will be the order of the day.
Brands are likely to invest more heavily in social now that a clear ROI can be gained from the sales generated by a Twitter buy button promotion.