Social media is awesome. It keeps friends and relatives in touch, it allows us to peek into the lives of the rich and famous, and does things like promoting the stories of shelter animals, giving them a better chance of finding a forever home. Lovely stuff.
Social media allows the world to unite against devastation – #PrayForTurkey, #JeSuisParis, #PrayForPakistan – the solidarity we see on social platforms gives everyone hope that there is good in the world. It has a far less serious front too, uniting people in their love of dog videos. We like this one.
While we can all see the positive effect of social media in a user's personal life, how can a business really benefit from endless social accounts? Is it worth the time put in to updating them?
Facebook
We all know Facebook. It's the biggest social media platform. But how does Facebook fare when it comes down to business? Is it the go-to platform for marketing?
In the last 2-4 years, Facebook has gone from a good organic way of marketing to becoming a pay-to-play platform. Stats in 2014 show that unless you are paying to market your posts, your organic reach will only find 2-6%. Saying that, they have a well respected targeting functionality, so if you do pay, you will get a good response from that.
FB positives:
Sharing and liking can spread your post nationally or internationally really quickly – great and simple marketing
Multi-product/carousel posts – goodbye single image, now you can curate a series of bestselling products or services to share in one advertorial post. That's up to 5 images with their own links, titles and info! Great for online shopping
Analytics. Facebook shows you exactly how well your business post is doing, which is important for tracking progress and finding what needs to be tweaked for next time
Unlimited characters – it's nice to know you're not limited if you want to speak to those who follow you (just don't get carried away)
You can segment exactly who you want to target advertising to by interests, location, gender, age etc. This is great for really nailing down your target market and ensuring that your ad spend isn't wasted on those who don't give a damn
What's not so good?
Facebook is often seen as more of a personal platform. Not everyone with an account wants to be linked to businesses constantly marketing their wares… for this reason it may be harder to create a worthy following
Facebook has made it harder and harder for businesses to keep and maintain a following without using paid Facebook advertising. They have successfully monetised the platform by automatically hiding most of your posts from users – unless they specifically select that they want to see all of your updates. This means that you'll have to invest into promoting your posts to get them seen and build a following.
A lot of effort is needed to maintain your Facebook account. It looks dull and boring pretty quickly if there isn't regular and up-to-date content uploaded, and especially if you're not paying for your marketing, as you will not have much engagement on any post
Instagram
Instagram is a great visual platform, and its recent updates (despite receiving mixed reviews) have given businesses a more chilled out marketing platform to gain a positive reputation on.
The image-led platform allows businesses to post pictures of whatever they choose, with editing tools and captions to explain what's so great about what is being marketed. Hashtags are used frequently (sometimes way too much – you don't need 100 hashtags for a picture of your breakfast) and its perfectly normal to follow businesses and other interesting or inspiring accounts.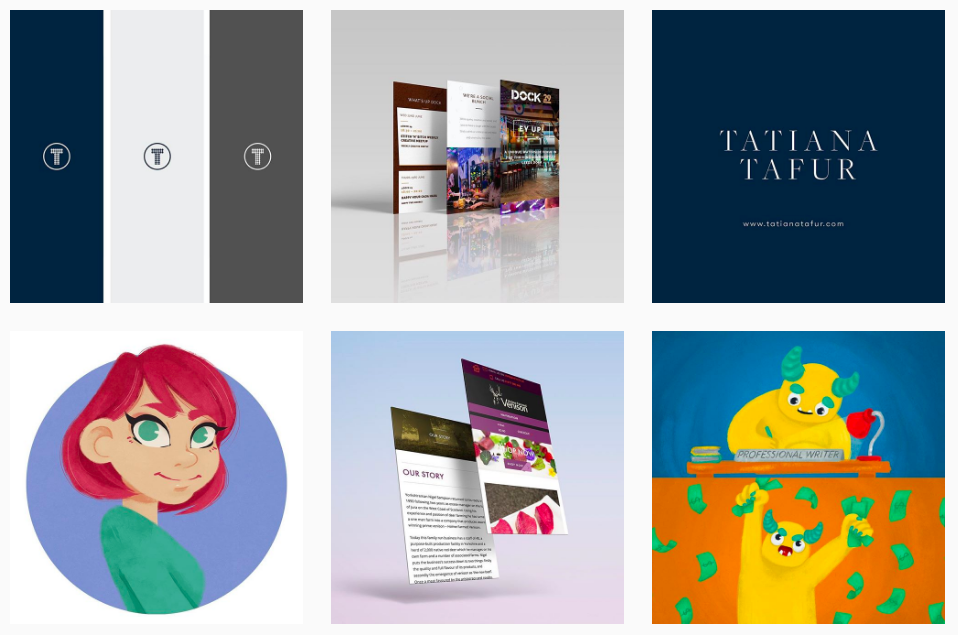 Their latest release has been more business-led, proving the popularity of marketing on the platform. With a new contact button, followers can get in touch via your Instagram for business profile. This is huge – people often don't have time to find your website / contact form from your Instagram account. Paired with the added nuisance of Instagram not giving users clickable links, it means one simple button that pings an email off to the account of your choice will allow much more B2B and B2C interaction through the social media platform. It's a yes from us.
Instagram is a hassle-free way to post fun and aesthetically-pleasing images of your business, your local area, or anything that may attract users to your account. Sure, it may not be for everyone – a debt collectors office may not have many fun or visually engaging pics to post – but it's an easy (and free) way to market your business, with minimum knowledge of the platform needed.
And now, with Instagram Stories, you can be even more casual, fun, and show the friendly and personable side to your business, whilst still subtly promoting produces or services! More on that later, though.
LinkedIn
LinkedIn is the professional social media platform. Remember the outrage when that businessman tried to send a flirty message to a woman? Do not do that here. LinkedIn is oh-so-serious and ought to be kept that way. Keep the embarrassing flirting and chat up lines to Tinder.
A recruiters dream, LinkedIn is an interactive, online CV. Users post their skills, past jobs, attributes, and more, and can connect with those they know and those they want to know. A simple account is free, but you can pay more for LinkedIn Premium Business Plus, which gives users more freedom and power to enhance their professional network.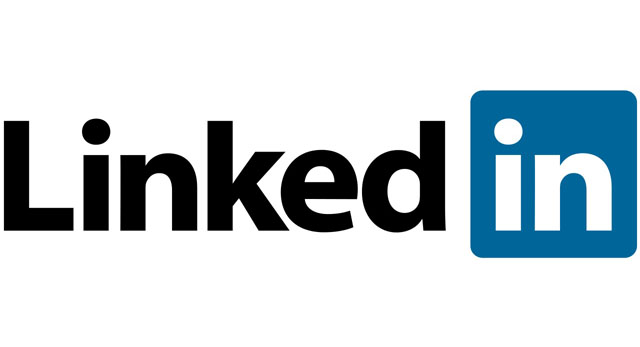 LinkedIn in some ways has pretty poor UX, and lots of people struggle to understand how to use LinkedIn to properly market their business, and get something back from the platform. What's the point of having an account if it just sits there, doing nothing? Here are just some of the things that, by using LinkedIn, can benefit your company:
Share posts with connections, about great business, local triumphs, personal achievements etc.
Endorse your connection's skills, and have them endorse yours
Build relationships with other businesses and likeminded people who you may learn something from
Promote B2B products / services to a niche group of people
Find staff with the right skill set and history to work for your company
You can also sponsor content, so if you've just released a new case study focused on a particular industry for example, you could pay to have this post shown to other companies from your target industry. Handy.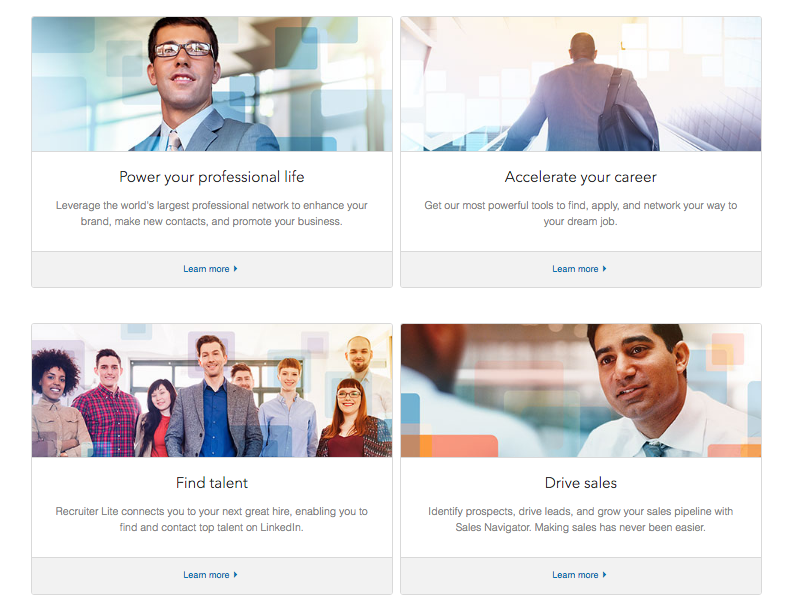 Pinterest
In 2014, 70% of Pinterest's 100 million users were female. Though the number of men joining the platform is growing, it's still very much a female-dominated platform. Great – if your products are more suited to women.
The social media platform Pinterest is a digital scrapbook, where the user can 'pin' inspiring images to their boards. Users can pin entire wardrobes of clothes they desire, find wedding decorations, dresses and cakes for their big day, or save home craft, interior inspo or recipe ideas for a rainy day; a series of personal collections that collate creativity.
Pinterest is especially good for businesses that sell an aesthetically pleasing object. An SEO company may find it hard to market on Pinterest, because how visually attractive do meta titles look, really? On Pinterest, a high-quality photograph could be the difference between a sale and someone scrolling past.
You can promote your Pinterest pins easily and quickly as Pinterest becomes more devoted to helping businesses market their wares on their ever-growing social media platform. Pinterest itself says you can set up a promoted pin in 9 seconds. It also states that "Businesses typically see a 100% increase in their web traffic within a week of launching their first campaign".
We wrote a blog post back in 2014 about Pinterest, of which the main points still ring true.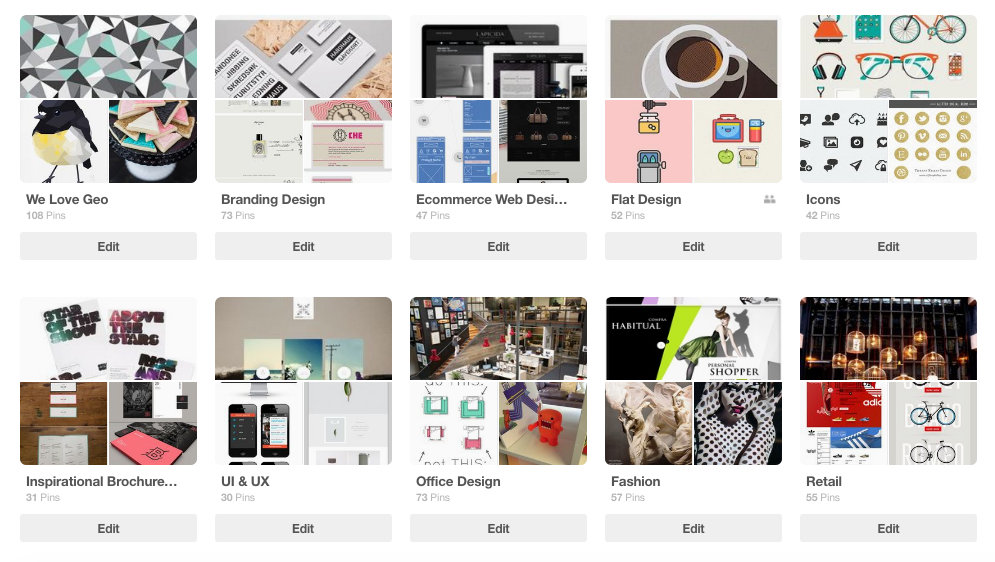 Snapchat
Snapchat is one social platform that didn't seem very business-orientated. However, over the past year or so, businesses have jumped on the bandwagon and it's been a fairly smooth ride since.
Snapchat is definitely more of a casual brand-awareness platform. You're not going to get a reply with a dog filter and sign off on a big job.
In terms of paid marketing, there are Snapchat ads, which are 10-second videos that give the user the option to swipe up and see a more in-depth version, and you can now create your own branded geofilters – there's a great blog about the latter here.
Whilst this was innovative at one time, platforms like Instagram have upped their game and recently brought out a (scarily similar) feature, called Instagram Stories. This new service copies – sorry – 'is inspired' by the time limitations users can place on images of videos in Snapchat. With Instagram slowly encroaching into Snapchat's territory, we're interested in how this all pans out and who emerges victorious.
Twitter
Twitter is a big platform for business. The amount of people we see on the train commuting to work of a morning and evening scrolling through their timeline proves just that. It's got a slightly more sophisticated market than Facebook (in theory), with 140-character limits to Tweets, there's no room for waffling. Quick, concise content is what it's all about.
You can pay for marketing on Twitter, like promoted Tweets, but you can easily increase your following and respectability on the platform yourself. This free eBook is a really simple way to discover what you can do to quickly increase your organic, targeted following.
Positives of Twitter:
So far, there isn't an algorithm to narrow down who sees what post, unlike other social media platforms like Facebook and Instagram. As long as the user follows you, your post will show up on their feed
Twitter Analytics shows how your stats compare to the month before, and what is working vs. what's not doing so well. Super useful for honing your Tweeting skills over time
Using #hashtags means you can easily reach more users. Check out what's trending and scroll through the Moments tab to find out what people are talking about, and  jump on the bandwagon to push your business out there. For example, the 2nd hashtag trending right now is #TalkLikeAPirateDay. It's pointless, it's not helping anyone. But if you click here to see how many people are talking about it, you can see how 140 characters of "ooh arr matey", to promote your business to a couple thousand people, seems worth the time put in
There are over 300 million active users per month. That's a LOT of potential customers!
Pinned Tweets (as shown in the screenshot below) can be changed regularly, promote one specific product, hint at exactly what your business is about, or, frankly, anything you want. It's a useful tool as anyone clicking on your profile will see it, as it's always pinned to the top of your timeline
Twitter's targeted paid ads are good and in-depth, allowing you to pick out of gender, age, location, behaviours, and people they follow, amongst others!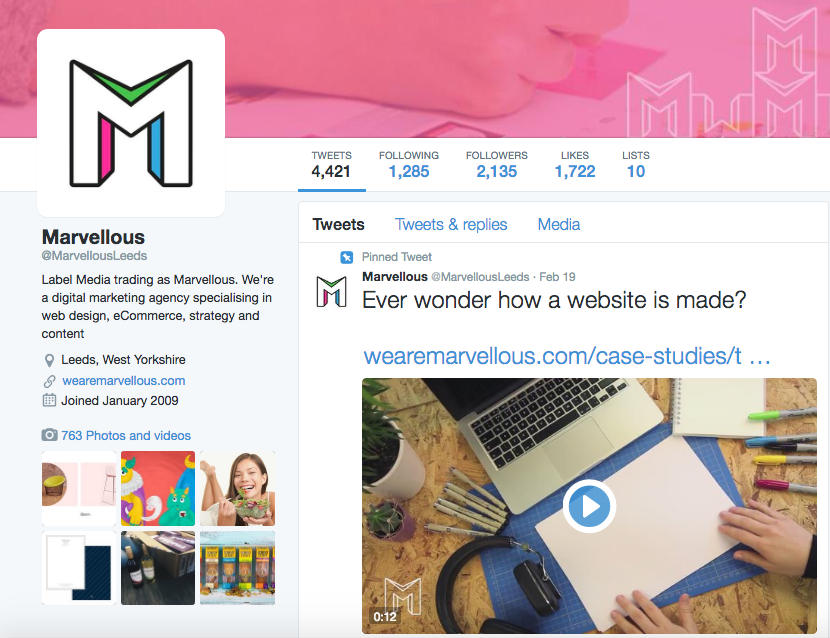 Negatives include:
Twitter's policy includes not being able to follow more than 10% more of who is following you (only after following over 2,000 accounts). For example, if you're following 2,000 people, unless over 1,800 are following you back, you will not be able to follow any more. This stops spam accounts, so is a positive, too!
It can become quite consuming. As with anything, you can find yourself a bit obsessed with checking stats and ensuring everything is headed in the right direction. Sometimes you can just get downright distracted – there are some weird and wonderful things on Twitter. Some companies have dedicated social media managers, so it can be a little overwhelming if you're managing social marketing alongside your "real" job! We find that Hootsuite is a really good way of scheduling our posts. Spend a chunk of time dedicated to creating tweets, and schedule them for key times (commuting times and lunch time work well!). Of course, you will have to create spontaneous tweets to ensure you are keeping up with new things that come out, but the bulk of your social work will already be done. Phew.