Before we get started on meta info, you'll need a basic overview of what SEO – Search Engine Optimisation – is. Elements of a website, like content, and meta information, are used to not only attract and help the customer, but also to allow Google to understand what the website does. This will allow Google to output your website listing higher on certain search words or phrases. Every company aims for their site to get to the first page of Google for a commonly searched phrase that their customers will use.
Meta information allows you to reach that little bit further in order to attract a potential customer to your site from Google. It's what Google uses to initially 'read' your page or picture to determine what it is exactly.
Meta info is split into titles and descriptions. These are what's shown on your listing in Google, like an ad for your page. One title and one description needs to hook the user and reel them away from thousands of other results in order to click on your page.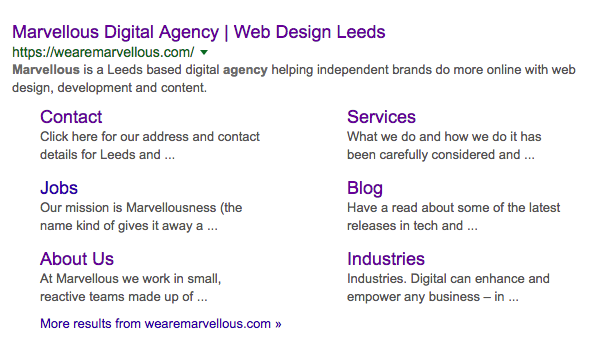 Meta titles (aka meta tags)
Meta titles are just that – titles. Our homepage's meta title is:
Marvellous Digital Agency | Web Design Leeds
You want your meta title to be short and sweet (60 characters max), while giving a clear enough description. There's no use in creating some super sophisticated and punny meta titles – users don't search Google with puns when they're actually trying to find something. Nor do they use uncommon words. Be to the point – say who you are and what that specific web page is about. Use words your customer will understand – no jargon unless you're appealing to people from your industry. We wouldn't say we're pixel builders or code ninjas because no one searches for that. No one talks like that. Ever.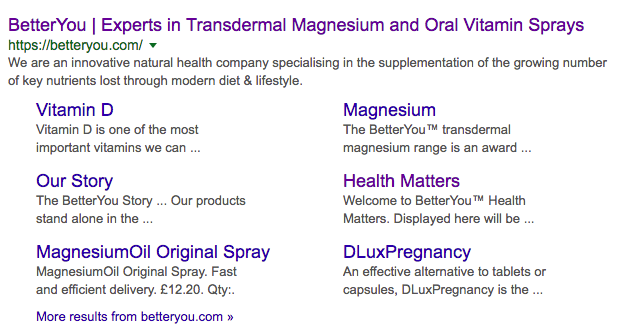 BetterYou have got their meta titles spot on. Users will search for these keywords, and it gives a clear explanation of the company.
Meta descriptions
As you will have guessed, meta descriptions are the snippets of info that appear under the title and URL.
They are there to give more explanation to your meta title – to explain in more detail what the page is about, using keywords which will entice users in, and will be picked up by Google to help your organic listings (SEO). Meta descriptions should not exceed 155 characters, so keep it concise. Like your meta title, the description needs to entice your customers while being matter of fact and giving them reason to suspect that what they are after is on your web page.

Tile Monkey's meta description – Your online tile shop, offering an extensive selection of stunning wall, floor, bathroom and kitchen tiles. Order a free sample and buy from us today! – depicts exactly what they as a company do and sell, and give their customers an immediate incentive before they've even clicked on the site – clever!
So there you have it! Simple really, though be prepared to spend time on these – they're not something to be taken lightly, and each of them have to be unique. This is because if they're not, Google will presume that each of your pages has the same content – and why shouldn't it? You're essentially giving Google and your customers a sneak peek into each page. Make it count!