Valentine's Day. It's an ultimate 'Marmite' day – people either love it or hate it.
Yes, many say it's a day solely created for greeting card companies to squeeze even more money out of us but it's also a day where brands can have a lot of fun. It's a true marketer's playground where you can take risks, be a bit cheeky and it's likely some clever content can go viral quickly; all great things for brand recognition!
Whether it's on social media, cross platform or offline, the scope for fun and increased brand awareness is huge. With this in mind, here are some of our favourite Valentine's Day marketing campaigns from the last few years.
IKEA Singapore New Beds
IKEA have been known to do some pretty tongue-in-cheek adverts for Valentine's Day (like the cot voucher for any babies born 9 months after Valentine's Day) and this is no exception. The great thing about this is it makes you do a double take. You think it's just a standard advert showing the classic IKEA products but they've subtly made it a bit saucy.
It's clever because it's not overly crass but it's hitting the nail on the head with subtle adult humour. Even though IKEA are a family brand, they are marketing to the young adults and parents so they can push the boundaries – but carefully.
WARNING: this one is pretty mushy and is not for those that wince at the thought of Valentine's Day.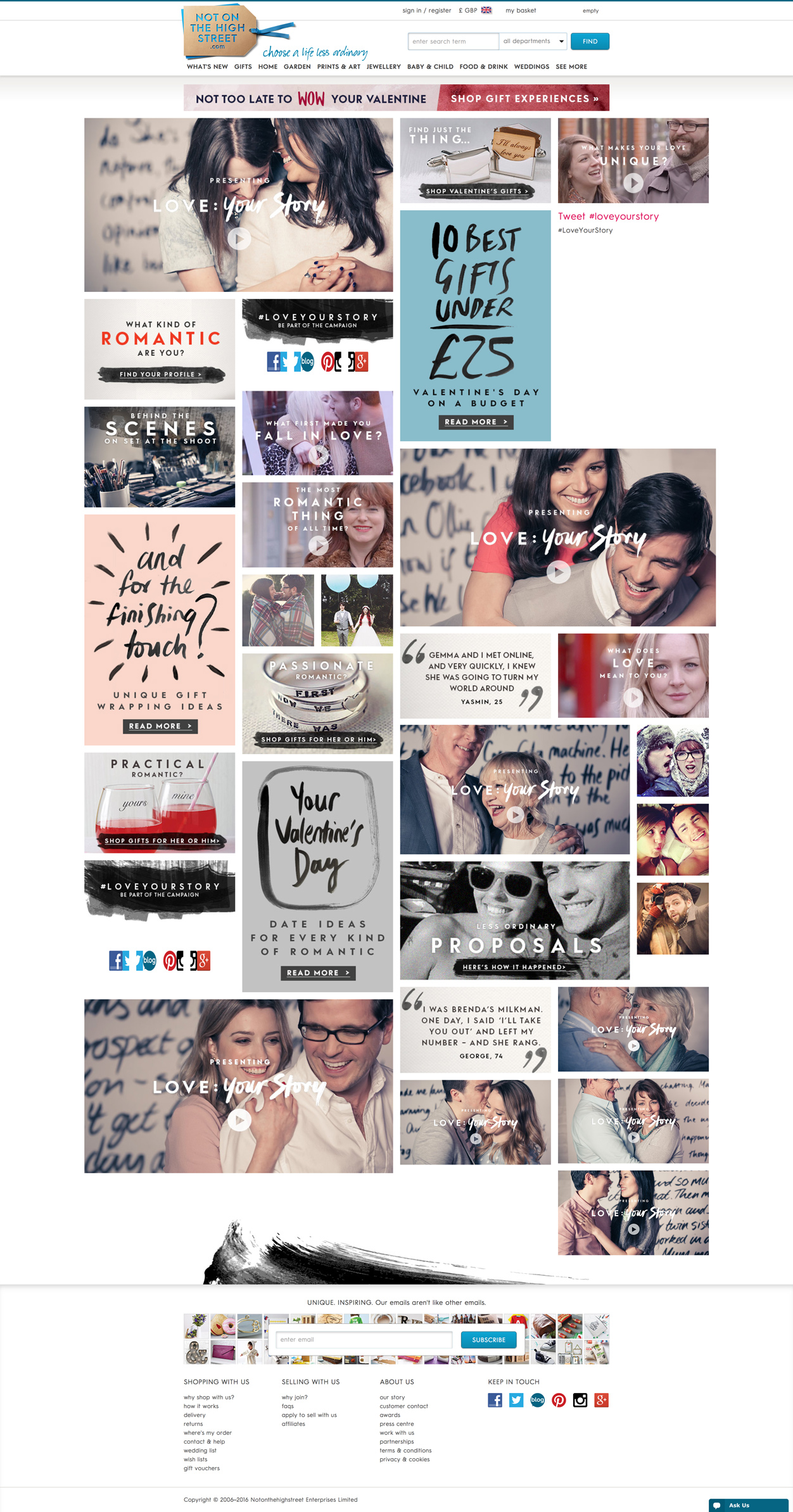 notonthehighstreet have created an entire Valentine's experience on their website, centred around their target user. It is filled with video interviews asking couples questions about their relationships, behind-the-scenes footage of the advert shoot, quotes, quizzes and pictures of couples all combined to create a personal pin board effect.
All of these personal touches are cleverly interspersed with gift ranges to suit different budgets, and a chance to join the campaign with #loveyourstory. By dedicating the page not only to products but to personal experiences of individual couples, notonthehighstreet tap into the truly personal part of Valentine's Day and really tug on the heart (and purse) strings of the users.
Tesco Basket Dating
Tesco are pretty good for viral Valentine's Day marketing. Their Vines last year on bumping into your ex in the supermarket went down a treat. This year, they've gone a bit more in depth, cashing in on the success of programmes like First Dates, by matching couples by the contents of their baskets, sending them on dates and doing a quick interview afterwards to see how it goes.
It ends with a call-to-action to create your own date night, making the campaign fun, engaging and ultimately about buying stuff. It ticks all the boxes of comedy, cuteness and is pretty memorable so another great one from Tesco.
(Also, literally love Carol and Ray. Why are they not on a date? We must know more.)
Ticketmaster Emoji Love Song Challenge
Can you guess the love song? ❤️ #EmojiLoveSongChallenge #ValentinesDayhttps://t.co/pDrHIS4W3x

— Ticketmaster (@Ticketmaster) February 9, 2016
Ticketmaster are running a 2 for 1 offer for Valentine's Day and they've accompanied it with a fun (and potentially infuriating) emoji love song challenge. It's not overly soppy, it's hugely engaging and it's actually a really good deal. Emojis are absolutely huge currently and engage a wide audience so it's a great move by Ticketmaster's marketing team.
However, this is a great example of the offering or product being brilliant already. 2 for 1 on concert tickets is a pretty sweet deal which don't come around often at all. The beauty of this is that, if a product sells itself, a marketer's job is so much easier and they can focus more on making the marketing memorable as opposed to informative.
Hallmark #CareEnough
We can't write a blog about Valentine's Day marketing and not include Hallmark. They are the epitome of Valentine's Day and have been for decades. However, rather than staying a bit stuffy and outdated with their most recent campaign, they've taken a long overdue step and included two same-sex couples in their campaign – one of them with their little girl.
Brands nowadays are way behind the curve with including same-sex couples in their Valentine's Day (or any!) marketing campaigns but it's good to see that a big player like Hallmark has finally got the message. They've had a card range for same-sex couples since 2008 but they hadn't included any couples in any advertising until last year. Of course, this all-American brand has pissed off a lot of fundamentalist Christians who have begun #BoycottHallmark in protest of this acceptance. But, as they say, any publicity is good publicity. Good on Hallmark.