Plugins come and go depending on whether they're frequently updated, or if what they do is a popular feature. Often they are designated to work on one certain platform – and sometimes they clash with other plugins that might have already been installed. That's why our tried and tested plugins are a real winner to use on contemporary eCommerce sites.
Here's a list of the tried and tested favourites we've used this year so far:
Magento Plugins
One Step Checkout
The One Step Checkout plugin by Magestore makes for some beautifully simple eCommerce. Who wants to spend an hour filling out endless forms just to buy something? Not us. What we want is one page that does it all. Add to basket, go to checkout, fill in a few deets, press buy, it's done.
It looks super sleek too. It can be styled to your branding which is even better for a tailor-made eCommerce experience. All you have to do is purchase it once – no monthly payments – phew!
Here's what it looks like on our fab client Luxury Flooring's website.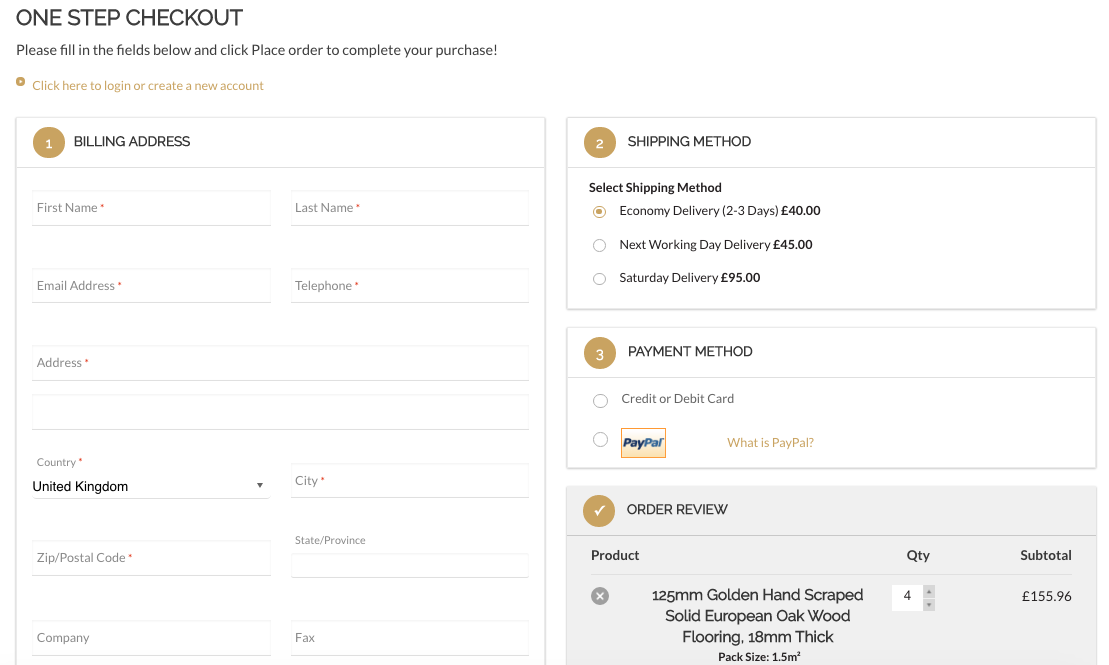 XTENTO Sales Export
Our specialist Magento Developer's personal fave – XTENTO's Sales Export plugin. This extension is for delivery stock integration, and is oh-so-useful for big eCommerce sites. It means your site will automatically export sales-related data to your delivery courier, and will connect to almost any ERP, CRM, warehouse, dropshipping or shipping system. That's what they say and we believe them.
It scored 5/5 as an average from 130 reviews – not too shabby!
Algolia
Algolia is a really powerful search plugin which looks minimalistic, is super fast, and a UX dream.
"Forget about fat fingers with our spell checker." Their words, not ours! Algolia takes into account any typos the user might make, and gives updated filtered results with each letter and word you type. It's got great UX both on desktop and mobile. Absolute winner, this one.
We've installed Algolia on a number of powerful websites that we're building. The only downside is that the number of searches is counted even on a staging server, and the amount of products brought up in a single search counts towards the number of searches given in each section. The higher the number of searches, the higher the pricing plan. But it's totally worth it, especially if you have a massive site with lots of products and a high volume of users.
Give us a ring if you're at all interested in getting Algolia installed on your site!
WordPress Plugins
Yoast SEO
We've talked about Yoast before, but it's one of the most useful things to get for your WordPress site. SEO is a massive deal and Yoast makes it easier to ensure that each page is SEO-ready.
If you want your website to rank on Google (who doesn't?) and you have a WordPress site, Yoast is one of the first things you should get. There's a free and premium version, so you can always test it out for a while if you don't wanna spend money.
Yoast covers aspects of SEO you need to think about, such as:
Meta descriptions
Word count
Keyword count
H1s, H2s, H3s etc.
Alt tags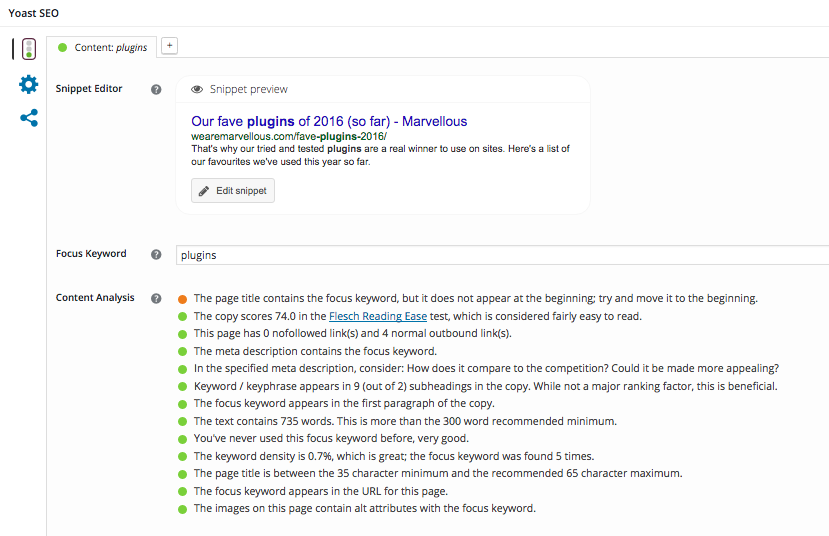 Advanced Custom Fields
Advanced Custom Fields is a WordPress plugin that makes it really easy to create rich content management experiences for our clients. With it we can create loads of different boxes, fields and forms that can be filled in to populate the page. It's our Lead Developer's favourite plugin because it allows for so much variation for the client.
By default, all you get in your standard WordPress is an excerpt and one box for main content per page. This is great if you want a simple site, but is very limiting, especially for eCommerce. With the plugin we can create fields with many different types, including standard text content, colour choice, and file downloads (to name a few).

PCA Predict
You know that fun thing when you put in your postcode and it drops down a list of addresses that fall under that postcode? That's PCA Predict (or Postcode Anywhere). It's super useful and speeds up the checkout process, so, pair that with the One Step Checkout, and you've got the eCommerce dream.