Twitter is a handy digital marketing tool that allows businesses of all sizes to talk directly to its customers. Plus, it's concise – you can't ramble in 140 characters – everything is directly to the point. It may seem daunting to not be able to explain yourself properly, but in a world where the majority of internet users are on their mobile, no one wants to write (or read) an essay on how their size wasn't in stock online. As the Huffington Post said, '"I have a problem" requires only 16 characters'.
Snippets of information are more than enough to leave customers and companies happy, but is it that easy to give brilliant customer service in two small sentences?
How to get customer service on Twitter right:
1. Be personable. It may be a screen you're staring at, but the person replying is a real life human. Don't talk like you're not. Repeat: we are not robots.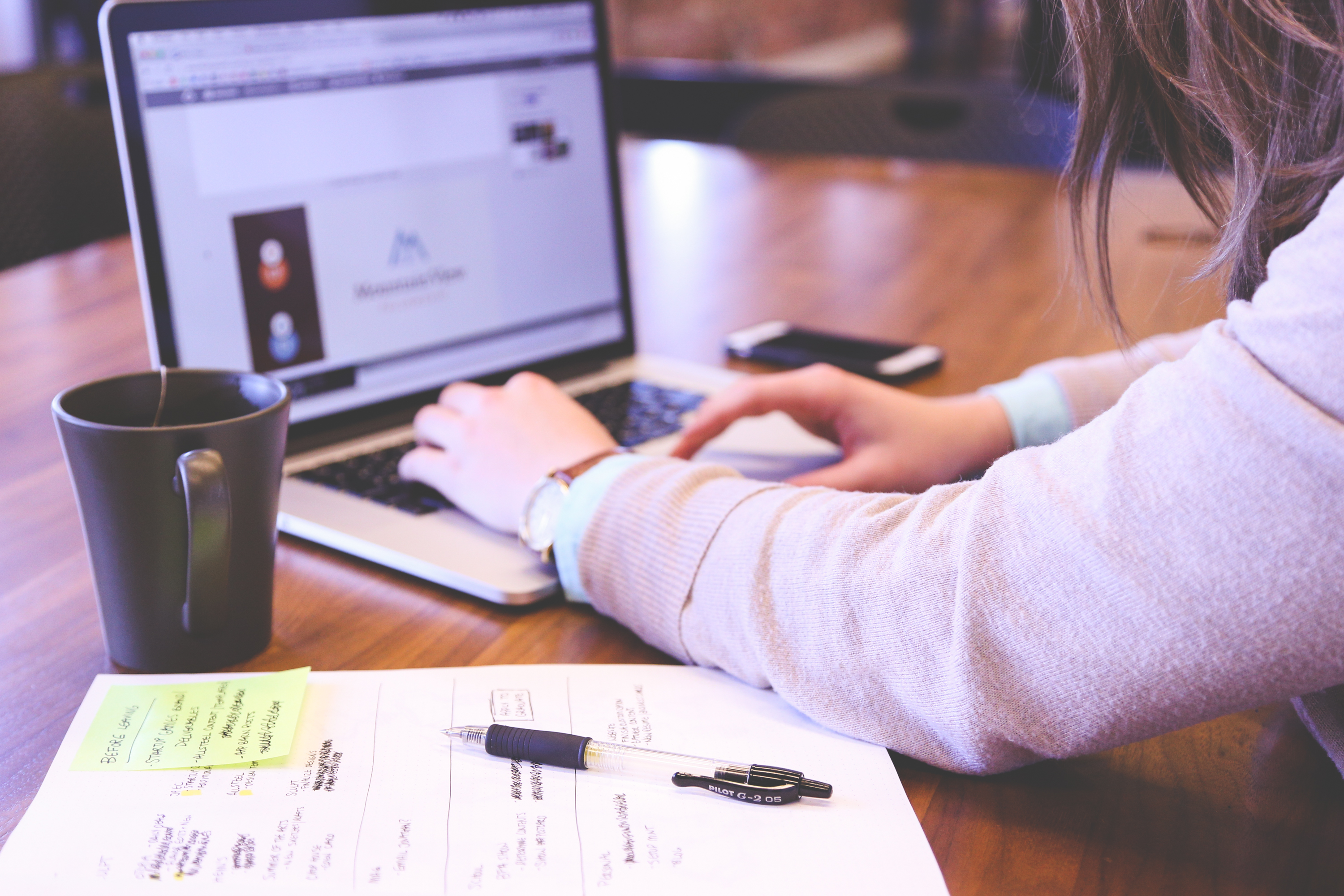 2. Respond as quickly as possible to any questions or complaints. You've given your customers the option to contact you via social media – you wouldn't walk away from a face to face question so don't do the equivalent online.
Don't delay in replying either – your customer will have given up and branded your service useless. In fact, 72% of customers expect complaints to be answered within one hour.
3. Be informative. What's the point in replying if you're not going to give a constructive answer? It may be easy to hit copy and paste to fill a generic answer, but your customers aren't stupid. They'll see through this laziness straight away (see point 1).
4. Be genuinely helpful. Can't give the customer exactly what they need? Be creative and find something else that won't leave them in the worst mood ever. Be sympathetic or offer them a contact number, suggest another product, and always remember point 1!
5. Always be honest. ASOS tell their customers when they've messed up, and everyone appreciates being told the truth, even if it makes you or your company look a bit stupid.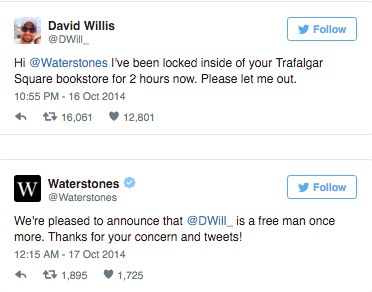 The 5 things you should not be on Twitter when you're working in customer services is pretty much the direct opposite of the above. Easy peasy.
There isn't much of an excuse to be negligent of customers on your social platforms – it should come as second nature in the digital world. That said, there are some clear winners in terms of efficiency, comedic approach, and just generally being awesome.
ASOS: your best mate
Aimed at young adults is this online clothing store with a savvy bunch of people at their head office. Their customer service team are helpful, engaging, and friendly – with an added touch of being spoken to as if they're your best mate (if you're going to attempt this make sure you don't come across as slimy and desperate).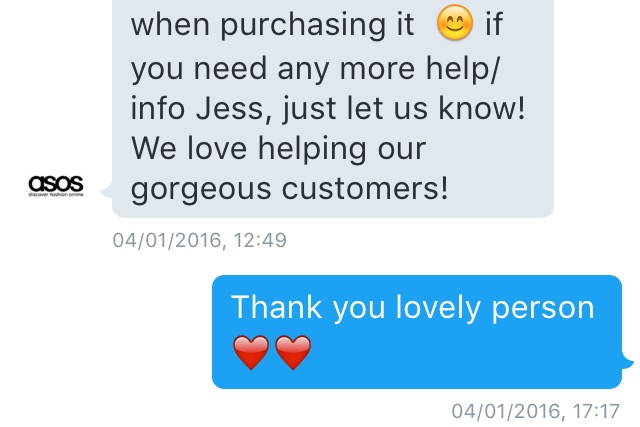 ASOS, stop making me blush.
But I digress. Many companies think if they're laid back on social media then their customers won't take them seriously, especially when it comes to needing a helping hand. A whole load of massive brands have totally turned that thought process on its head, and are quick at responding, chatty –sometimes downright hilarious, and yet their replies are still useful and constructive. Isn't that all you need from a team at the ready to help their customers?
Netflix: the class clown
Another giant with a relaxed and comedic social media presence. Bringing customer service and comedy together, they've cracked the corporate barrier between customer and company.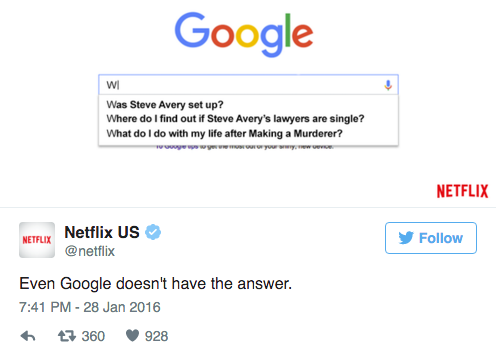 They have an account purely for customer service, but they don't ignore those all-important questions directed to their main account – that's good service all round.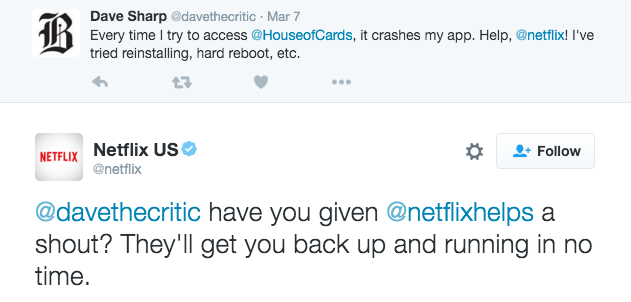 Apple: the new kid
Apple do a lot of things right – obviously – some people spend twice as much on a system for it's aesthetically pleasing look. But while looks aren't everything, Apple has got a lot more behind them than being pretty. If you don't know that Apple is a great company, what cave have you been hiding in?
One thing missing was their customer service on social media platforms. Luckily for all who live and breath Apple products, they've bucked their ideas up in a big way.
They gave us @AppleSupport this March, and within 24 hours of launch had gained 121,000 followers, and had replied to over 2,000 queries and complaints. To you non-mathematical geniuses, that's 2 or 3 replies per minute. They've now been around for 6 days and they've got 188k followers and have tweeted/responded an impressive 10k times.
Even @jack (you know, the CEO of Twitter…. he's kind of a big deal) welcomed their arrival with Twitter facts. Like the fact that companies using Twitter as a part of customer service sees a 19% increase in customer satisfaction. Great work Tweeters.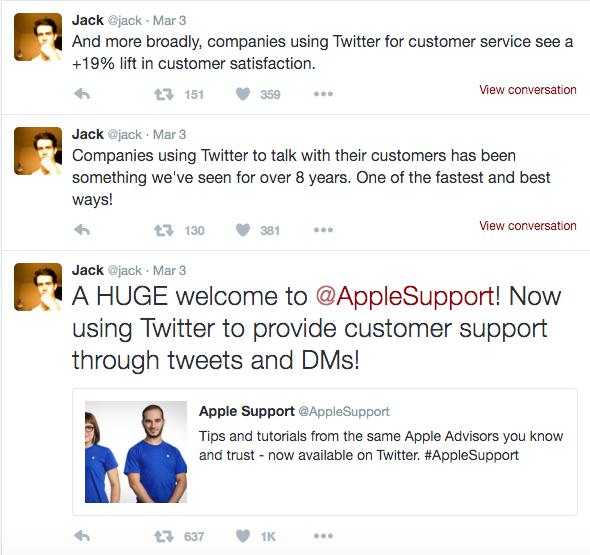 It's not always the company being the lovely ones…
As much as customer service is at the forefront of every (successful) business, you can imagine how dreary it'd be to reply to every single complaint and question, day after day. Mundanity reaches the next level when 30 people a day ask what time their local store is open 'til. It's always nice to get a happy tweet, especially when you're used to customers condensing their anger into 140 characters.
Luckily we're super nice here and understand the importance of praise when praise is due: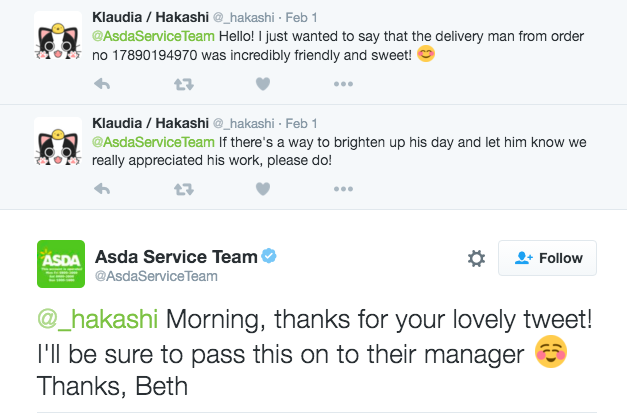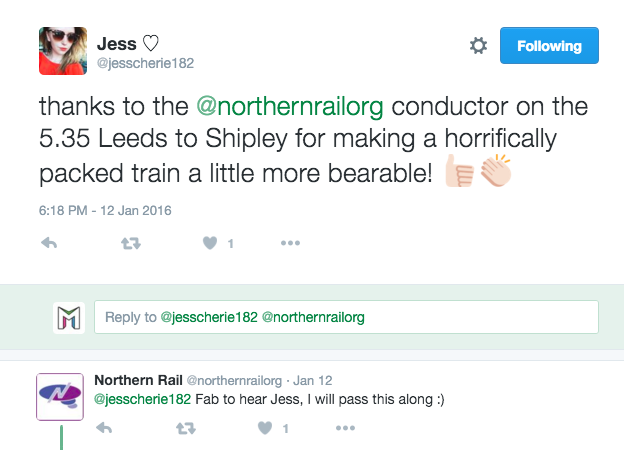 Customer service Twitter accounts often bring out the comedy behind the company, and the customer. It's awesome to see so many brands liaising with their customers in such a friendly and engaging way.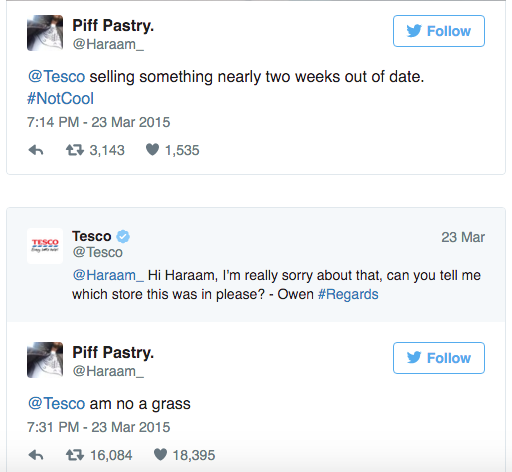 Smaller independents can be just as savvy with their digital marketing.
Still – local indie businesses can be just as successful on social media, especially when it comes to customer service. One of our brilliant clients, The Yorkshire Soap, has a great social media presence (which helps when your products are beautiful and unbelievably photogenic). Their customer service is helpful, informative, responsive and honest – just what any consumer wants from a business. Congrats, @ysoap!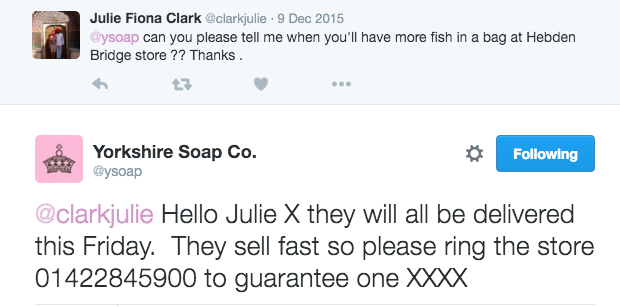 Remember though, customer service isn't just about how you handle complaints and answer questions. Consumers really fall in love with a brand when its sense of humour, kindness, or genuinity shines through. If you can make a huge corporation seem like a friendly bunch then you've done pretty well.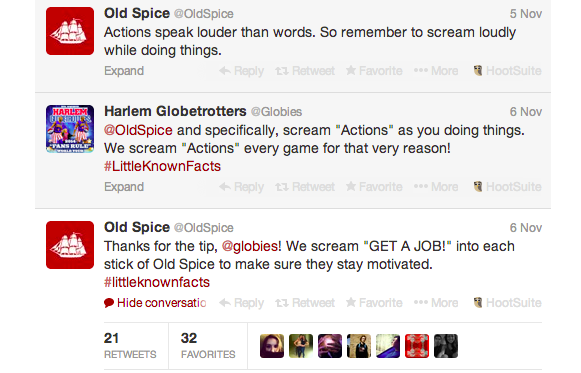 Follow our Marvellous Twitter for more updates on blogs and news on Yorkshire, independents, and the digital world!