Sometimes design is a bit like fashion – some things are trendy, some things are faux pas, and some you can get away with if you're confident enough. When it comes to branding, each year we can see certain trends crystallise. Although it's only September, we've been watching 2017's rebrands like hawks and we've already spotted some patterns. Here are the top five!
Simplification
Flat design still reigns and many brands simplify their identities to follow the trend. Simplification doesn't mean making a logo look bland, though. It's all about striking the right balance of uniqueness and keeping it readable on all kinds of screens and print applications.
Simplifying shouldn't be limited to just the logo, as branding is so much more than that. Many brands simplify their colour palettes, typography, the way they talk to their customers, how they present themselves on social media or even how they work internally.
Audi
In 2009 Audi introduced their new custom type and dropped wordmark from the iconic four ring logo. This year they took a step further and turned the 3D silver rings into a flat black and white shape. As a global brand, Audi's simplified logo is instantly recognisable, and thanks to its geometric, flat nature, it can be used in a variety of interesting applications.
Flat no more
As much as simplifying everything seems to be the dominant trend, many brands decide to go against the grain to stand out. This can take many forms – re-introducing elements that seem to be out of fashion nowadays, adding a bit of complexity, breaking rules of what's considered 'best practise'. We're not talking about anything flashy here, though. Have a look at the following examples to see what we mean!
Alzheimer's Society
Although Alzheimer's Society's former logo was beautifully flat and simple, by many it was perceived and cold and clinical. In an attempt to make it a more approachable brand that appeals to a younger audience, the charity has rebranded itself. The new logo features an airsprayed forget-me-not flower symbol that sits behind the logotype. While we're not convinced by the logo itself, Alzheimer's Society's use of colour combined with the flower symbol in various promotional materials definitely makes them stand out more.
They did break a few best practise rules along the way, though. The airsprayed flower sitting behind the logotype makes it more difficult to use the mark as a black and white silhouette. Photographic backgrounds will probably make it illegible. It also needs to stay relatively large, otherwise the small type becomes difficult to read.
Aldi
German supermarket Aldi has recently rebranded itself to look more 'modern' and 'contemporary'. The refreshed logo features bolder colours, new sans serif typeface and gradients for a more three-dimensional look. In our opinion it still looks quite old-fashioned, while uneven whitespace around the lettering and A mark really grinds our gears. But maybe that was the purpose? No matter how you look at it, it does stand out from the flat design crowd.
Back to roots
Going back to its roots works great especially for heritage brands that have a rich history and want to signify it with their branding. This can take many forms – some brands go back to an older version of their logo, some introduce handmade touches and some add elements that signify where they're coming from.
Although this year we haven't seen a major brand doing this yet, a few big ones successfully revamped their identities to go back to their roots last year and we're sure we'll see more by the end of 2017.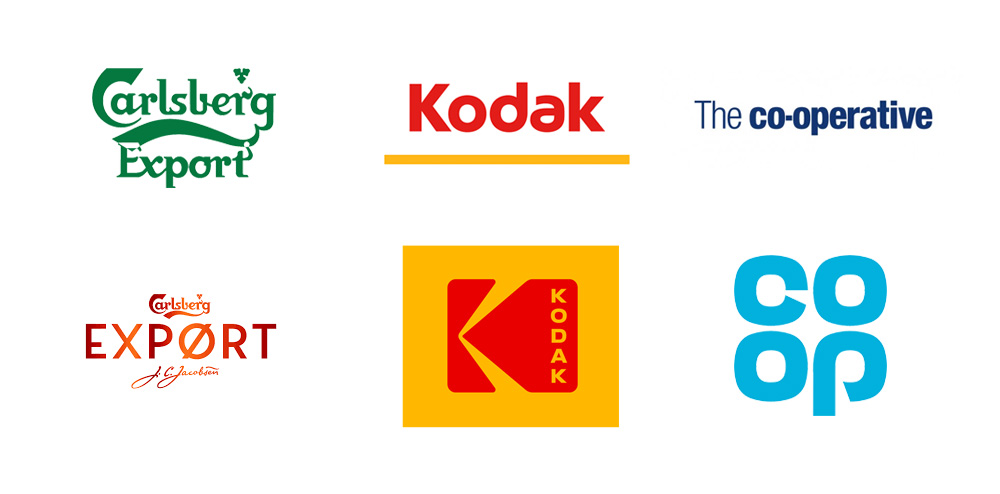 Freshness
This trend is related to making a brand look original, but it doesn't necessary mean going against the simplification movement. Here brands are trying to inject themselves with some fresh, young energy, by introducing interesting crops, angles, colours or overlays. It's especially exciting to see a previously traditional brand do it.
Huffpost
Formerly known as The Huffington Post, Huffpost has undergone a dramatic rebrand with bold angles, fresh colours, and a brand new sans serif typeface. As the first digital-only news brand, Huffpost's angles visually represent the forward slashes, but also divisive news stories that bring people together.
Our verdict? We love it. It was an incredibly bold decision, but it worked. Every single element of its new brand communicates what it needs to communicate, and definitely adds more punch to the content they publish. With such branding there is always the risk of looking more 'tabloid-y', rather than like a highly regarded news source, but given the great work they do, we're not worried too much.
Fanta
Fanta's previous branding was already vibrant and dynamic, but they have managed to outdo themselves. Round forms were swapped for angles and the colour palette was brightened, with white logotype now sitting against a purple background. Slight inner shadows add a bit of a three-dimensional look, while a hidden smiling face in A is a really nice, subtle touch!
Fanta's fun branding doesn't stop at the logo, though. They've introduced a new twisted bottle, which so far we know is definitely launching in the UK, but it'll probably slowly spread across the rest of the world.
Literal logos
A few years ago it was edgy to make your brand look a bit mysterious, so that it's impossible to say what it does just from its name or logo. Not anymore. Many brands (including those that didn't try to be edgy on purpose, they were just lost) are actively trying to remove any potential ambiguity from their identity. In a world filled with information noise, straight-to-the-point brands are like an oasis in the middle of a desert.
Mozilla
Mozilla's rebrand process was definitely different from the usual, with work in progress being published for public scrutiny. As an open-source web company it made sense to involve their users as much as possible. Although we wouldn't encourage following the same route, after three rounds of amends, Mozilla ended up with a brand new logo that incorporates the HTTP protocol symbol – a colon and two forward slashes. With its previous logo being as generic as it gets, the new identity clearly signifies what they do and where they're coming from.
Did we miss something? Are there any other major trends worth mentioning? Tweet us to join the discussion!